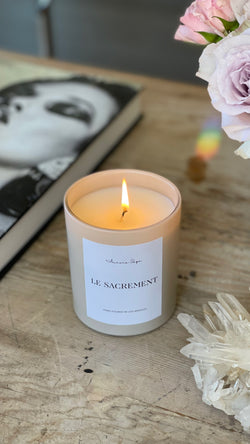 Aurora Sage
Le Sacrement - Candle
Allow an Aura of Soft Musk, Rose and Sheer Patchouli, with a touch of Lemon and Bergamot to guide you in elevating your sacred daily rituals. More than a scent, it's a sacrament. Hand poured in Los Angeles using natural coconut soy wax and a premium fragrance and essential oil blend.                                                                                                                                                                
55 hour + burn time.  
Candle will burn slower when the wick is trimmed before each burn.